Finding Lover's Lane - A Play in One Act
by Kevin T Baldwin (Author)
Synopsis:
Two young people are seen in a "car", arguing over how to find "Lover's Lane".
---
Time and Setting: The present. Bare stage with two chairs.
CAST OF CHARACTERS:
A BOY
A GIRL
Off-stage VOICE OF MR. KAMISKY
Off-stage VOICE OF POLICEMAN
Off-stage PARENT VOICE # 1
Off-stage PARENT VOICE # 2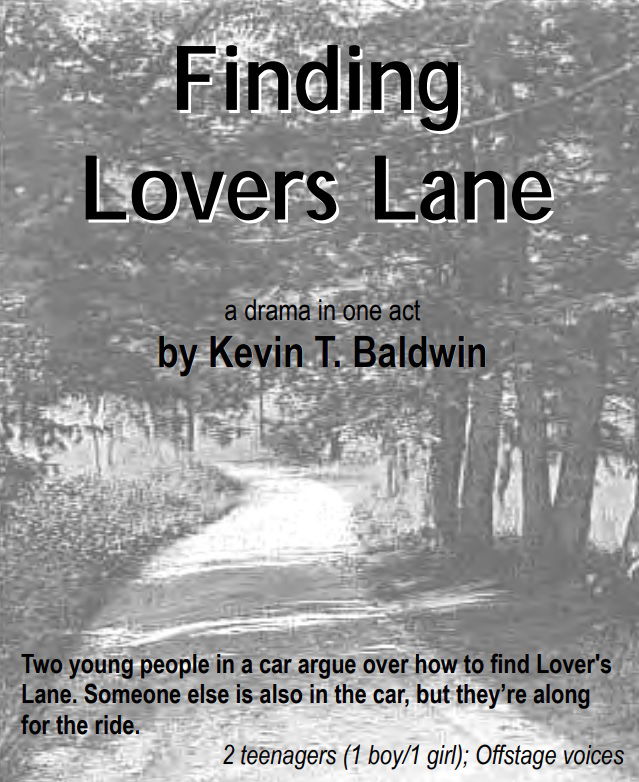 Disclaimer: All rights reserved. Copying or reproducing this material or any part of this book in any manner is strictly prohibited by law. All other rights in this play, including those of professional production, radio broadcasting, motion picture rights, are controlled by Kevin T. Baldwin to whom all inquiries should be addressed.
PERFORMANCE LICENSE
All amateur acting rights to this play are controlled exclusively by Kevin T. Baldwin without whose permission no performance, reading or presentation of any kind may be given. On all programs and advertising this notice must appear: "Produced by special arrangement with Kevin T. Baldwin"