Four Short Plays for Young Actors
by
Four plays intended for young actors. Suitable for all audiences. Includes:

"The Magical Monkeys of Mergatroid"

"Rapunzel"

"Rumpelstiltskin"

and

"The Emperor's New Clothes"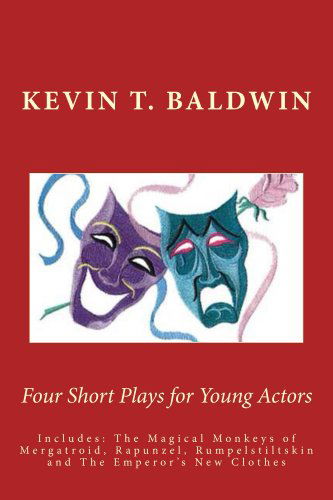 Disclaimer: All rights reserved. Copying or reproducing this material or any part of this book in any manner is strictly prohibited by law. All other rights in this play, including those of professional production, radio broadcasting, motion picture rights, are controlled by Kevin T. Baldwin to whom all inquiries should be addressed.
PERFORMANCE LICENSE All amateur acting rights to this play are controlled exclusively by Kevin T. Baldwin without whose permission no performance, reading or presentation of any kind may be given. On all programs and advertising this notice must appear: "Produced by special arrangement with Kevin T. Baldwin"
Buy printed copies Here:
https://www.amazon.com/Four-Short-Plays-Young-Actors-ebook/dp/B00HFS96LE/ref=sr_1_4?keywords=kevin+t.+baldwin&qid=1576174762&s=books&sr=1-4
Product details
File Size: 351 KB
Print Length: 50 pages
Publication Date: December 19, 2013
Sold by: Amazon Digital Services LLC
Language: English
ASIN: B00HFS96LE
Text-to-Speech: Enabled

X-Ray:

Not Enabled

Word Wise: Enabled
Lending: Enabled
Screen Reader: Supported
Enhanced Typesetting: Enabled
Amazon Best Sellers Rank: #4,586,236 Paid in Kindle Store (See Top 100 Paid in Kindle Store)