Hopscotch Park - A Play in One Act
by Kevin T Baldwin (Author)
Synopsis
A young boy, from wealthy family, meets a young girl from poor economic circumstances at a park.
Cast of Characters:
Colin* – A young boy, from wealthy family. Wears black shorts with white button-down shirt and black tie. Hair is immaculately groomed. * If being performed with two girls, Colin may easily be made into Colleen.
Tania – A young girl from poor economic circumstances. Wears jeans and a grey T-shirt. Her hair is messy and she wears a brightly colored bandana on her head.
OFFSTAGE VOICE OF COLIN'S FATHER
OFFSTAGE VOICE OF TANIA'S MOTHER
ICE CREAM COUNTER PERSON (Non-speaking)
Setting:
A playground at a park, late in the afternoon. There is a bench downstage center. There is an ice cream counter located upstage right. There is a "Hopscotch" game pattern grid front downstage center on the floor in front of the bench, but it is not imperative that the audience sees the grid. It's only important for the actors to work with it. The remainder of the playground set may be as elaborate or as simple as the director or set designer wishes.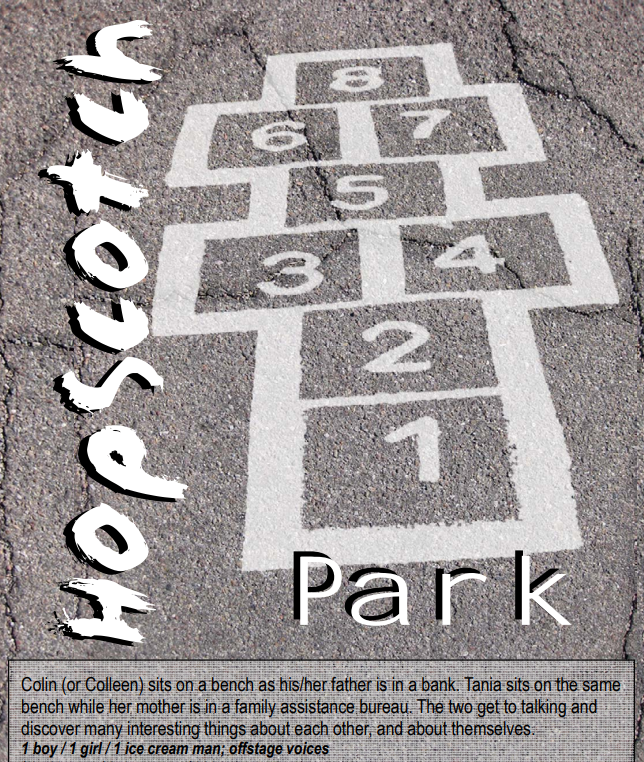 Disclaimer: All rights reserved. Copying or reproducing this material or any part of this book in any manner is strictly prohibited by law. All other rights in this play, including those of professional production, radio broadcasting, motion picture rights, are controlled by Kevin T. Baldwin to whom all inquiries should be addressed.
PERFORMANCE LICENSE All amateur acting rights to this play are controlled exclusively by Kevin T. Baldwin without whose permission no performance, reading or presentation of any kind may be given. On all programs and advertising this notice must appear: "Produced by special arrangement with Kevin T. Baldwin"